Your Advent calendar by CHOCOLAT BOREAL
What could be more magical than opening your Advent calendar every day in December?
It's cold outside and the eagerness to discover the daily surprise lights up our inside flame.
Chocolate touches our child's hearts and this ritual is engraved in our emotional memory.
The new Advent calendar signed by CHOCOLAT BOREAL is presented as a beautiful object that stands out for its warm Nordic design.
The packaging design was inspired by the arrival of the new exclusive boxes and their cavities that can accommodate individually wrapped filled chocolates. The ideal choice to put numbers on each square and create a warm universe evoking traditional holidays and the beauty of winter nature.
Unlike other calendars that can be found on the market, this one has the particularity of having 27 windows! For those days when you need a second portion or just to make pleasure last. A characteristic symbolizing generosity value.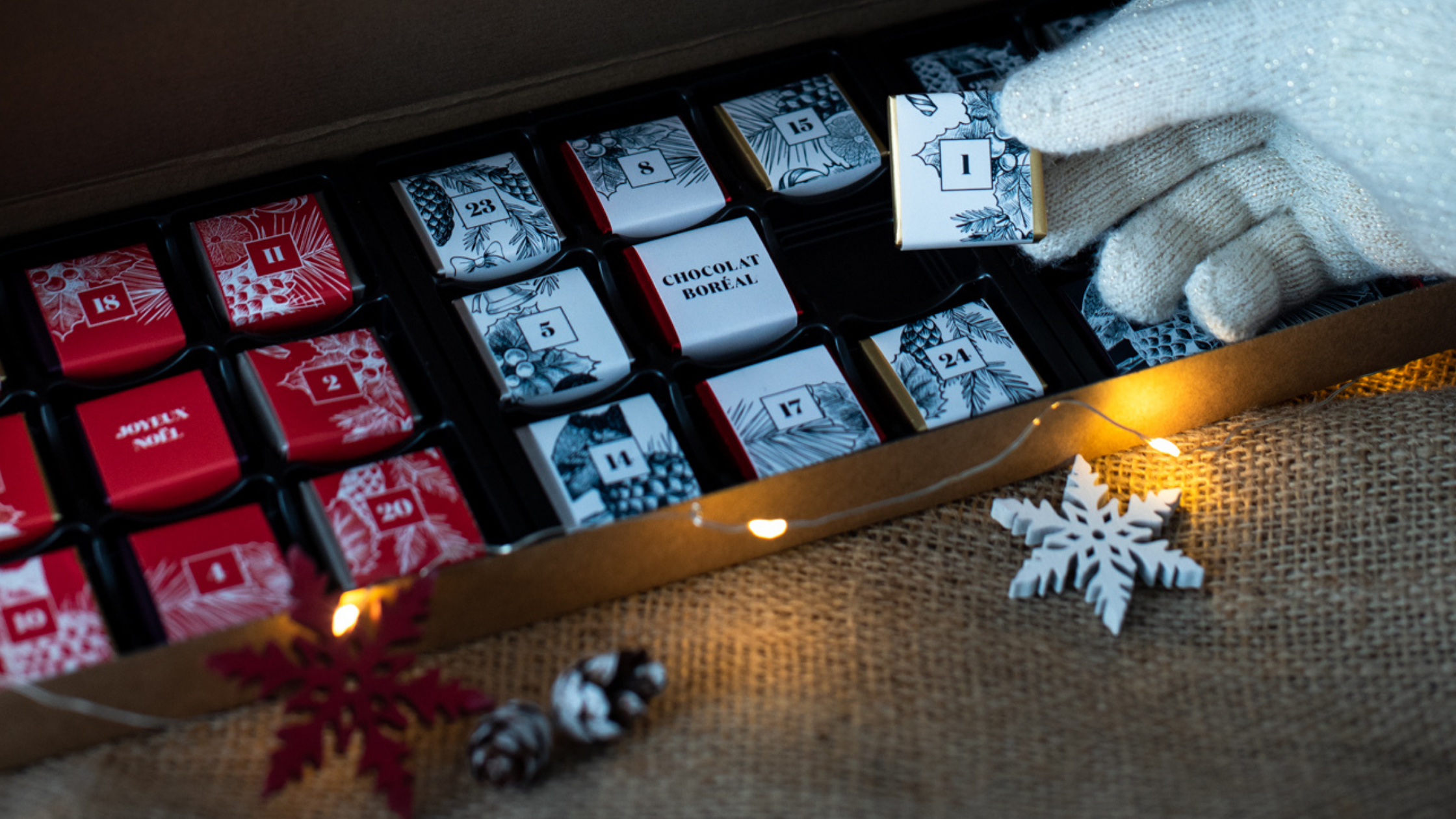 But the quality of this calendar is also due to the careful selection of flavours influenced by food related memories.
MILK - Orange
In tribute to this gourmet tradition of offering an orange at Christmas, this citrus fruit was married to a rich and creamy milk chocolate.
MILK - Chaï
This bite is inspired by the famous Chaï tea, this hot drink made from milk infused with spices whose consumption means comfort.
MILK - Praline
With its melting texture, this milk chocolate garnished with toasted hazelnut paste is a pure delight for the taste buds.
DARK - Fleur de sel
This dark chocolate shell topped with salted caramel reminds another famous Chocolat boreal's product: the salted caramel drops. Those who know them will remember its delicious taste and will be delighted to find it in this new format.
DARK - Maple
The maple syrup caramel is inspired by the northern identity of the brand in addition to bringing a slightly woody and mineral taste to the aromas.
The whole masterpiece has been carefully balanced to meet different types of chocolate, textures and techniques.

The accompanying descriptive booklet identifies the flavours according to a bright color code. While the snow-white sleeve that seals the box brings an elegant final touch. Like the whole Chocolat boreal collection, each element is customizable: from the surface of the chocolate to the packaging, in order to create a most original and authentic corporate gift.

Whatever the surrounding weather or news feed, the owner of this Advent calendar will wake up every morning of the month knowing he will appreciate a bite of know-how and sensitivity.
Photo credit: Luisa Gonzalez